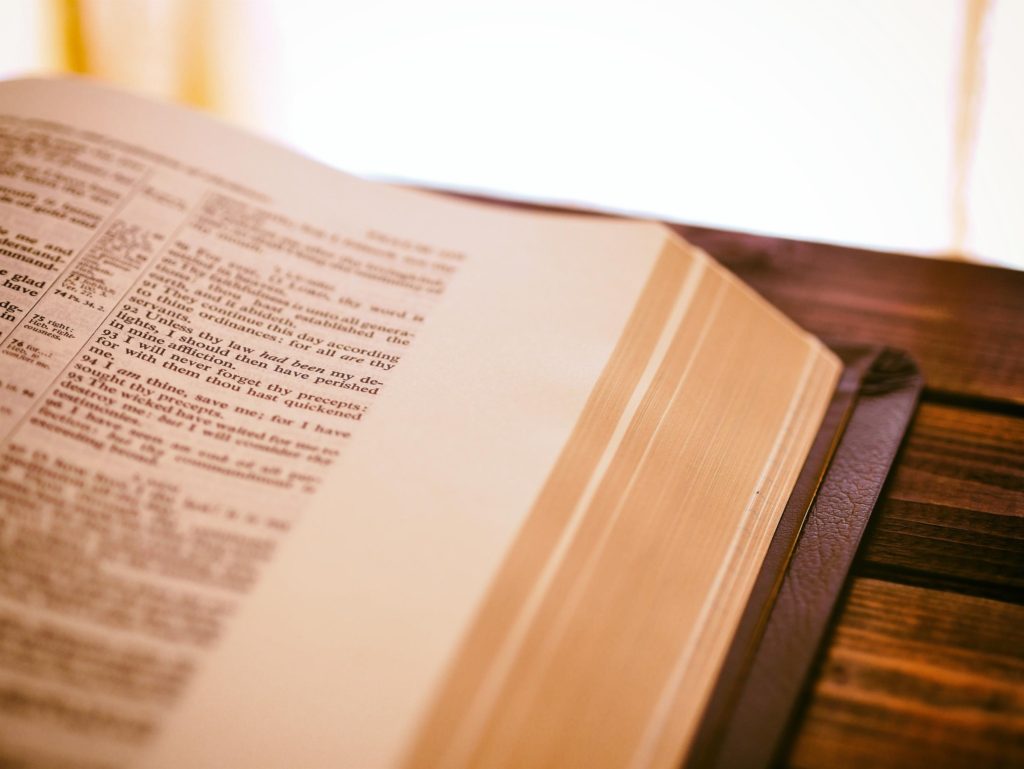 Bible Institute Of the Macon Area is an outgrowth of our conviction that the local church is God's instrument in accomplishing His work and will in these "Days of Grace." Christ is building a Church; not a fellowship, denomination or a school. While we certainly do not oppose the formation of Bible Colleges and Universities, history has proven that no matter how firm the intentions of the founders of the schools, eventually they succumb to the monetary and academic pressure to compromise their core principles and Scriptural teachings for the acceptance of the World and the "prize" of academic accreditation. One of the deep problems of these organizations is they are not under the control of the local church. They are run by families or boards. The church is God's ordained instrument and we believe that the oversight of a Godly pastor and the support of a vibrant, growing church congregation are the greatest hedge against compromise and apostasy.
BIOMA is a Bible Institute. It offers practical, Biblical, and affordable Christian training for those who are serious about serving the LORD, whether it be in the Sunday School, Children's Ministry, Teen Ministry, Jail Ministry, Local Church, or Mission Field. Some courses will be taught on our campus in Macon, but the majority of the work can be done by correspondence. Correspondence courses can be done at the student's own pace and according to the student's schedule. The courses will be of nominal cost (to cover only the cost of the materials and provide some support for the faculty who produce, grade, and instruct). Our motto at BIOMA, like that of our Church, is: "All the Glory of God." We are committed to academic excellence, Scriptural integrity, and practical application of God's truth. We are solidly Dispensational, Fundamentalist, and balanced in our approach. We teach and publish our lesson material only from the King James Bible but we also teach from the original languages in which the Bible was written, not to correct the Bible but to clarify its meaning. The following courses will be offered at BIOMA:
Division of Theology
TH 101 Theology Proper, Bibliology
TH 102 Christology, Pneumatology
TH 201 Hamartiology, Soteriology
TH 202 Anthropology, Angelogy
TH 301 Ecclesiology, Eschatology
TH 302 Apologetics, Contemporary Issues in Theology
TH 401 Cults and Apostasy
TH 402 Seminar in Theology, Preparation of Personal Doctrinal Statement
TH 501 Covenants, Dispensations and Rightly Dividing the Word of Truth
Division of History
HI 101 History of Western Civilization to the Reformation
HI 102 History of Western Civilization From Reformation to Current Times
HI 201 Early Church History
HI 202 The False Church and the True –Dark Ages
HI 301 The Reformation to the Modern Church
HI 302 The Baptists In Europe
HI 401 The Baptists In America
Hi 402 Fundamentalism: Its Fight, Faith, Follies, and Foes
HI 501 History of the English Bible
Hi 502 Hebrew History
Division of Bible
BI 101 OT Survey
BI 102 NT Survey
BI 201 Pentateuch
BI 202 OT History
BI 301 OT Wisdom and Poetry
BI 302 OT Prophecy
BI 401 The Gospels
BI 402 The Acts of the Apostles
BI 501 Pauline Epistles
BI 502 General Epistles
BI 601 The Revelation of Jesus Christ
BI 602 Christ in the OT
BI 701 Bible Geography and Customs of the Bible
BI 702 The Tabernacle, Priesthood and Offerings
BI 801 Creation
BI 802 Abraham the Father of the Faithful
BI 901 David the Man After God's Own Heart
BI 902 Job the Suffering Saint
BI 1001 Elijah the Great Prophet of God
BI 1002 Ezra, The Ready Scribe
BI 1101 The Life of the Lord Jesus Christ
BI 1102 The Lives of the Apostles
BI 1201 The Missionary Pioneer, Paul
BI 1202 The Lower Lights, Personalities around Paul
BI 1301 Major Prophets
BI 1302 Minor Prophets
BI 1401 Practical Bible Study Methods
BI 1402 Bible Study Tools
BI 1403 Expository Preaching and Teaching from the Bible (Currently offered on Campus)
Division of Practical Studies
PS 101 Effective Christian Living
PS 102 Principles of Spiritual Growth
PS 201 Principles of Spiritual Time Management
PS 202 Principles and Practice of Prayer
PS 301 Event Organizing and Planning Principles
PS 302 Financial Management from a Spiritual Perspective
PS 401 Effective Personal Evangelism
PS 402 Developing a Vision, Mission, and Ethic System
PS 501 Pastoral Internship (Pre-Pastoral Studies Only)
PS 502 Youth Work Internship (Youth Work Studies) *requires in person instruction on campus
PS 601 Balance in the Christian Life
PS 602 Church Administration
PS 701 Home and Hospital Visitation Practicum
PS 702 The Christian Baptism, Wedding, Funeral, and Other Special Topics requires in person instruction on campus
Division of Pastoral Studies
PAS 101 The Call, Glory, and Problems of the Ministry
PAS 102 Qualifications and Character of a Godly Pastor
PAS 201 The Pastor and His Study
PAS 202 The Pastor and His Leadership Team
PAS 301 Pastoral Counseling
PAS 302 The Pastor and Crisis Management
PAS 401 The Pastor and His Pulpit
PAS 402 Pastoral Internship (Identical to PS 501) requires in person instruction on campus
PAS 501 Pastoral Failures
PAS 502 Pastoral Seminar
PAS 603 Pastor and Music
Division of Biblical Languages
AL 101 Elementary Greek * requires in person instruction on campus
AL 102 Elementary Greek * to be offered at a later time
AL 201 Intermediate Greek * to be offered at a later time
AL 202 Intermediate Greek * to be offered at a later time
AL 301 Elementary Hebrew * to be offered at a later time
AL 302 Elementary Hebrew * to be offered at a later time
AL 401 Intermediate Hebrew * to be offered at a later time
AL 402 Intermediate Hebrew * to be offered at a later time
AL 501 How to Choose and Use Language Study Aids
AL 502 Word Studies and Use of Hebrew and Greek in Preaching
Division of Youth Ministry
YM 101 The Call to Serve Our Youth
YM 102 Life and Character of the Youth Minister
YM 201 Organizing for Success
YM 202 Planning and Execution of Youth Outings
YM 301 Children's Ministry
YM 302 Teen Ministry
YM 401 Camp Ministry
YM 402 Special Needs Kids and the Youth Minister
YM 501 Maintaining Purity in Youth Ministry
YM 502 Evangelizing Youth and Children
YM 601 VBS
YM 602 Youth Ministry Internship (Identical to PS 502)
YM 701 Youth Ministry Practicum
YM 702 Youth Ministry and the Total Program of the Church
YM 801 Youth and Music
Not all of the courses are currently offered at the same time but if you have an interest in a course or in a program of study, please contact Kevin S Lucas, Director, BIOMA,
(478) 788-2473.